1 Hour 15 Minutes
25 Minutes Prep
20 Minutes Cook
30 Minutes Resting
16 Brownies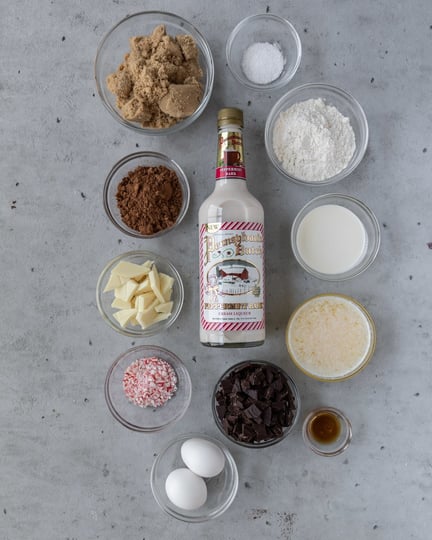 Ingredients
For Fudgy Brownies:
12 tablespoons (170 grams) unsalted butter melted
1 1/4 cup (266 grams) brown sugar packed
2 large eggs
2 teaspoons vanilla extract
3/4 cup (90 grams) all-purpose flour
1/2 cup (42 grams) cocoa powder
1 teaspoon salt
1 cup (170 grams) chocolate chopped


For Peppermint Bark Ganache:
1 cup (170 grams) white chocolate chopped
1/4 cup (56 grams) heavy cream
1/4 cup (56 grams) Pennsylvania Dutch Peppermint Bark Cream Liqueur
peppermint as needed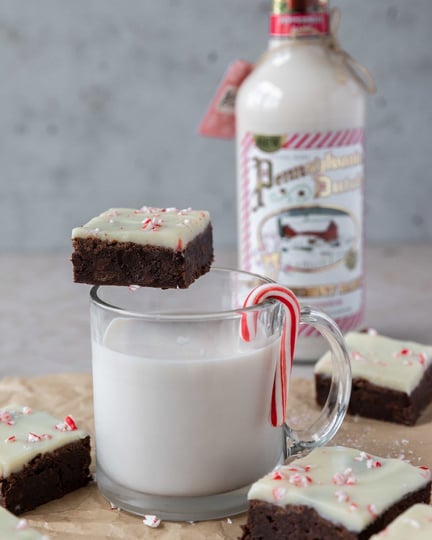 How to make it
For Fudgy Brownies:
Preheat oven to 350 degrees (F). Spray an 8×8 pan with non-stick spray and then lay thick strips of parchment paper across the bottom of the pan in a cross shape. This will make it easier to lift the brownies out of the pan once cooled.
In a medium bowl mix with a hand mixer combine the melted butter and brown sugar. When fully combined add the eggs and vanilla. Beat until fully combined and light in color.
In a small bowl combine the flour, cocoa powder, and salt. Whisk to combine and remove any lumps.
Add the dry ingredients to the wet ingredients and mix until just combined. Overmixing will create tough brownies.
Fold the chocolate into the mixture and pour into the prepared baking dish.
Bake the brownies for 17-20 minutes, longer if you would like a firmer brownie
Remove from oven and allow to cool.


For Peppermint Bark Ganache:
Place the white chocolate in a medium sized bowl and set aside.
In a small saucepan combine the heavy cream and Pennyslvania Dutch Peppermint Bark Liqueur over medium heat until it comes to a low boil. Remove from heat and pour directly over the white chocolate. Allow the mixture to sit for five minutes.
Use a whisk to slowly stir the mixture together until everything is melted and fully incorporated.
Cover the surface of the ganache with plastic wrap and allow to cool completely.


For Peppermint Bark Brownie Assembly:
When the ganache is fully cooled and thickened pour it over the cooled brownies. Use a spatula to spread it evenly.
Sprinkle your desired amount of crushed peppermints over the top.
Remove the peppermint bark brownies from the pan and cut into 16 bars.