40 Minutes
15 Minutes Prep
25 Minutes Cook
10 Cupcakes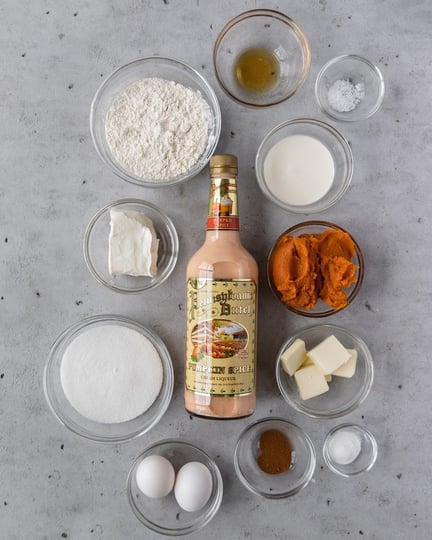 Ingredients
Cupcakes:
1 cup (198 grams) granulated sugar
4 tablespoons (56 grams) unsalted butter room temperature
1/4 cup Pennsylvania Dutch Pumpkin Spice Liqueur or milk
1 cup (227 grams) pumpkin puree
2 large eggs
1 cup (120 grams) all-purpose flour
1 teaspoon baking soda
1/2 teaspoon pumpkin spice
1/4 teaspoon salt
Frosting:
4 ounces cream cheese room temperature
1/2 cup (99 grams) granulated sugar
1/2 teaspoon vanilla extract
pinch salt
3/4 cup heavy whipping cream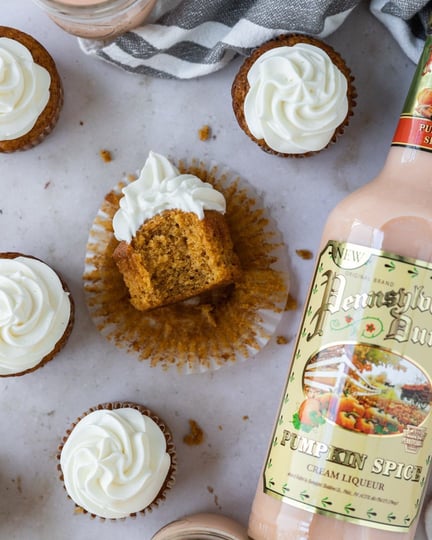 How to make it
For Pumpkin Spice Cupcakes:
Preheat oven to 350 degrees (F). Line a muffin tin with 10 muffin liners. Set aside.
In a large bowl beat the sugar and room temperature butter until fully combined and fluffy. Add the Pennsylvania Dutch Pumpkin Spice Liqueur and pumpkin puree and beat until fully combined.
Add eggs one at a time, mixing well between each addition.
In a small bowl combine the flour, baking soda, pumpkin pie spice, and salt.
Add the dry ingredients to the pumpkin mixture and mix until just combined.
Pour the batter into the prepared muffin tin and place in the preheated oven. Bake for 20-25 minutes or until a toothpick inserted in the middle comes out clean.
Remove from oven and allow to cool completely.
For Whipped Cream Cheese Frosting:
In a medium bowl combine the room temperature cream cheese, sugar, vanilla, and salt. Mix until fully combined.
In a separate medium bowl whip the cream until stiff peaks form. Be sure not to over whip.
Add about 1/4 of the whipped cream into the cream cheese and mix until completely combined. Add the rest of the whipped cream and gently fold into the cream cheese mixture.
When the pumpkin spice cupcakes are cooled you can use a knife or a piping bag fitted with a piping tip to frost the cupcakes.